Osteopath and musculoskeletal specialist near Hampton
Are you suffering from unnecessary back or neck pain? Are you not able to do as much work or sport as you would like? Get immediate relief now by visiting osteopath Hugo Firth, who is based near Hampton and Molesey. Your progress towards full recovery and optimum health is at the centre of everything Hugo does and whatever the cause of your pain, he can help
A qualified osteopath, Hugo is able to combine traditional osteopathy with 3D Functional movement, created by the Gray Institute, the world's foremost authority of Applied Functional Science. In addition, he also practises medical acupuncture, trigger point therapy, sports massage and therapeutic exercise and he is a NAT practitioner for treating frozen shoulders.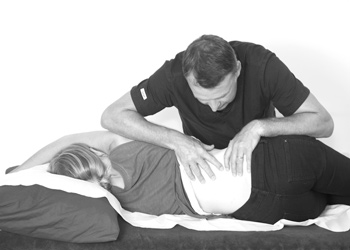 Your local osteopath can help with a huge range of issues, including:
Neck pain
Whiplash
Tension headaches
Muscle and ligament strains
Trapped nerves
Sports rehab injuries
Tennis and gold elbow
RSI
Osteoarthritis
Disc herniations and prolapses,
Trapped nerves
Your own personal exercise videos
He also videos patients, with their permission, so they can practise exercises at home properly, maximising their chances of a quick and effective recovery. In addition to the personalised osteopathy videos that are made, all of Hugo's patients will have access to his dedicated YouTube channel, to help them effectively practise the exercises set for them, alongside giving them references points for exercises to boost their mobility in the future.
To speak to Hugo about how he can help with back pain or neck pain, or any other issue, please call now on 020 8226 3767.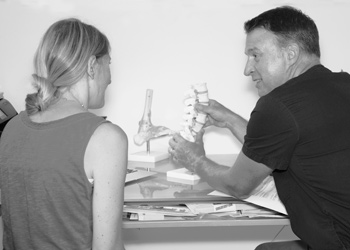 Do you have a sports injury or recurring sports injury in Hampton? Visit your local Osteopath
Hugo is a big sports enthusiast and has a special interest in treating sports-related injuries. If you have a sports injury that is effecting your enjoyment of sport, he can certainly help. As well as traditional osteopathy treatment, Hugo's training in highly effective Functional Exercise Therapy, allows him to identify parts of the body that are not moving as well as they should be, so he can treat the joints and muscles more effectively.
If you have a recurring injury, such as hamstring strains, shoulder and knee pain, back pain, sciatica, tennis or golfers elbow, runner's knee, shin splints and ankle sprains, Hugo will have a solution. He will analyse your foot biomechanics, posture, spine and gait, as well as the injured tissue to ascertain the root of the cause. He can them prescribe an effective treatment programme to help you regain strength, boost healing, so you can go back to your sport with less chance of injury.
Shockwave Therapy
Shockwave Therapy is now available at the Practice. It is a highly effective , non invasive therapy reduces pain at the injured site, increases blood supply and kick starts the healing process. Research shows that is very effective at treating Rotator Cuff injuries, frozen Shoulder, knee pain, Golfer's and Tennis Elbow.
The treatment will be integrated into your overall rehab programme.
Read our blog for more about osteopathy and prevention of hamstring strain recurrence.
Sports massage near Hampton to relieve neck and back pain
Sports massage deals with the rehabilitation and management of your soft tissue and has many benefits. Sports massage is not only for sports injuries but can be used as a specific treatment for soft tissues. It will help your muscles recover, relax, regenerate and restore function.
Sports massage is helpful for:
Post training and race recovery
Injury recovery and prevention
Event preparation
Lower back pain and neck pain
Postural aches and pain
Are you based in Hampton? Do you have a sports injury or pain? Let your osteopath help!
For more details, please call Hugo now on 020 8226 3767 or book online
Highly recommend Hugo Firth to fix those niggles, aches and pains. His rehab programme
has worked wonders for me. Riding pain free 🙂 April 2016

Cormac

Cyclist and Businessman
Hugo treated me when I was in excruciating pain following a nerve issue and at a time when other professionals told me to wait for the acute pain to subside before I could have treatment.... After just two appointments with Hugo, the pain was gone almost completely. A few more sessions later and I am now pain free!

Aurelie L

IT professional
Regain your Personal Best