Hugo Firth, BOst, BSc, MA
Hugo is a qualified Osteopath, registered with GOsC and is a member of the Institute of Osteopathy. He is a musculoskeletal specialist who combines his osteopathic training with medical acupuncture, sports massage, trigger point therapy and Functional Exercise therapy through the Gray Institute of Applied Functional Science.
This combination of innovative functional exercise and highly effective Osteopathic treatment helps patients significantly reduce their pain, increase their mobility and importantly gives them the strategies to reduce the risk of it happening again  or to manage the problem if it reoccurs.
He graduated with a 2:1 from the London School of Osteopathy and has presented his research into therapeutic exercise adherence at the Conference of Chiropractic, Osteopaths and Physiotherapist at the British School of Osteopathy.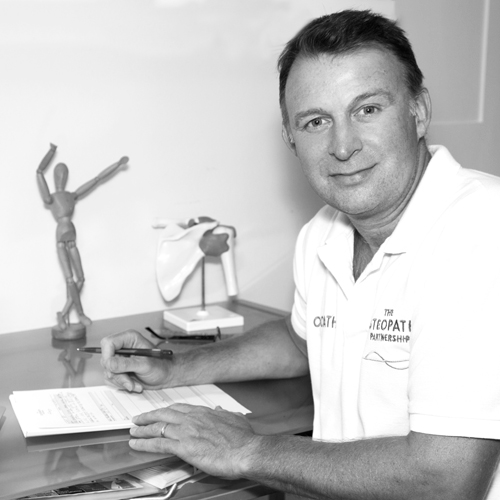 He has been a keen sportsman all his life and has a special interest in treating sports related injuries. He understands how debilitating and frustrating back and musculoskeletal pain can be. After 30 years of playing rugby and 19 years of triathlon competitions he knows the stresses and resulting injuries that contact and endurance sport can put on the body. He is a member of OSCA Osteopathic Sports Care Association that provided Osteopathic treatment to athletes at the London 2012 Olympics.
When not training for his next triathlon he gives talks to businesses on work related posture and how staff can help themselves reduce pain with simple exercises at their desks or the water cooler.
Hugo lives in central Kingston with his wife and two young children. They take up any of his spare time.
Hugo is a very skilled osteopath. I had a frozen shoulder that I had been battling with for over a year, with various treatments from the NHS and it was still getting progressively worse. I saw Hugo early this year, around March. After about 10 sessions, I had 85% of movement back in my shoulder, I had resumed work, the constant chronic pain, that was my normal, had stopped. And when I saw the NHS consultant on my next follow up, he said to me "if any of my patients, after surgery, had the movement in their shoulder that you do, I'd be happy." And with that he discharged me. Hugo has given me my work life back. And now about 3 1/2 months later, my shoulder has continued to heal. With the recommended at home exercises that Hugo give, I now have about 98% of movement back in my shoulder. I have resumed my life. Thanks Hugo

Eugenia Shaw – Beautician- July 2016
Regain your Personal Best