Sports injury treatment and osteopath in Teddington
Are you suffering from back or neck pain after spending too long at your computer? Perhaps you are a sports enthusiast with recurrent injuries? Or maybe you are looking for a chiropractor in the area? Well, look no further! Hugo Firth is an osteopath and sports rehab specialist, who blends traditional osteopathy with renowned Gray Institute 3D Functional movement. Based in Kingston, the Osteopathy Partnership is ideally placed to help patients in Teddington, Ham and the nearby areas.
Hugo treats people of all ages for a range of problems, including the following issues:
Neck: Whiplash, tension headaches, benign positional vertigo, muscle and ligament strain, trapped nerves
Shoulders: Frozen shoulder, rotator cuff strains, bursitis inflammation, shoulder rehab injury, muscle and ligament strains, osteoarthritis – read our blog about how osteopathy can help patients with arthritis
Elbows: Muscle and ligament strains, golf and tennis elbow, RSI
Hips: Osteoarthritis, sacroiliac pain, PSD, recurring groin and hamstring strains, bursitis inflammation, post surgery rehab
Back: Lower mechanical back pain, postural muscle, joint and ligament pain, disc herniation and prolapses, sciatica, spinal stenosis, trapped nerves
Wrists: Carpel Tunnel Syndrome, RSO, osteoarthritis
Knees: Runners and jumpers knee, patella femoral pain syndrome, bakers cyst, ITB syndrome, sports injury rehab, post surgery rehab, osteoarthritis, muscles and ligament strains, calf strains
Feet: Plantar fasciitis, Achilles tendonitis, shin splints, neuromas, ankle sprains, over pronation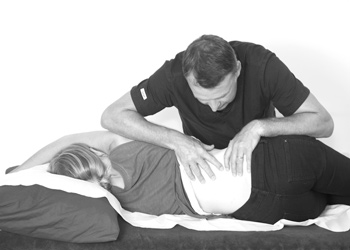 He will create a unique treatment programme, designed to treat your personal needs and issues. As a trained osteopath, Hugo uses techniques that can get you moving quickly, reduce your pain, boost the healing process and will promote your musculoskeletal health.
To book a consultation with Hugo, please call now on 020 8226 3767.
Personal treatment videos for Teddington patients with back pain and neck pain
All exercises are individualised and formulated with your issues in mind. Hugo will also offer to video you, with your permission, doing prescribed exercises to help you outside of your appointments. This will ensure you get them right the first time and every time you do them, so as to improve your chances of getting better faster. You will also be able to see his dedicated Osteopathy YouTube channel, where you will be able to find videos covering a range of osteopathy exercises to use now and in the future. The channel gives his patients helpful reference points for exercises that he set for them as well as new and beneficial ones to help improve mobility.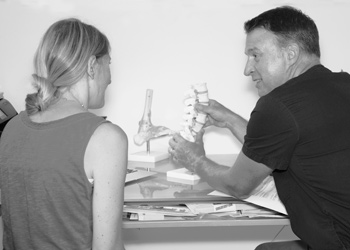 Offering patients medical acupuncture at our back pain clinic near Teddington
Medical acupuncture is a method of encouraging the body to promote natural healing and to regulate pain mechanisms for effective pain relief. Medical acupuncture is mainly used to treat musculoskeletal pain, including tight knotted muscles. It enables access to deeper tissues that may be difficult or too painful to massage.
Hugo is a trained Medical Acupuncturist and offers all patients this option, alongside their overall osteopathic treatment.
Visit our osteopath near Teddington to regain your personal best!
Find out today how Hugo can help you with muscle or joint pain or to recover from an injury. He can be contacted on 020 8226 3767 or book online.
Highly recommend Hugo Firth to fix those niggles, aches and pains. His rehab programme
has worked wonders for me. Riding pain free 🙂 April 2016

Cormac

Cyclist and Businessman
Hugo treated me when I was in excruciating pain following a nerve issue and at a time when other professionals told me to wait for the acute pain to subside before I could have treatment.... After just two appointments with Hugo, the pain was gone almost completely. A few more sessions later and I am now pain free!

Aurelie L

IT professional
Regain your Personal Best