Patient-centred osteopathy in Kingston
Are you suffering from recurring sports injuries? Perhaps back or neck pain is making you miserable? Are you looking for a first-class sports massage or medical acupuncture? Kingston-based osteopath Hugo Firth has been successfully treating patients in Kingston and Norbiton for a number of years. Registered with the GOsC and a member or the Institute of Osteopathy, he is a musculoskeletal specialist, who combines osteopathy with 3D Functional movement, created by the Gray Institute. He also uses sports massage, trigger point therapy and medical acupuncture to treat his patients.
Hugo's treatments are suitable for a wide range of conditions including:
Sciatica
Neck pain
Muscle and ligament strains
Whiplash
Tennis elbow
Osteoarthritis
Golf elbow
RSI
Tension headaches
Trapped nerves
Sports rehab injuries
Disc herniations and prolapses
Trapped nerves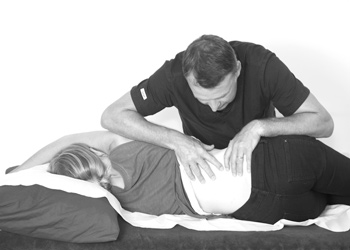 Hugo also facilitates his patients' recoveries by videoing his patients practising their exercises, with their permission, so they complete them effectively and properly at home to accelerate their recovery time. As a patient you will also have access to a dedicated YouTube channel, where a library of exercises can be found to help you recover and give you a useful reference point for the future.
For more information about osteopathic treatments, please call Hugo on 020 8226 3767 or book an initial consultation and treatment online
For effective sports injury rehabilitation in Kingston, visit The Osteopathy Partnership
Whether you do sport for recreation or more competitively, it can be easy to pick up a sports injury for a number of reasons, such as the repetitive nature of a movement, the lack of warm up or stretching after a session or the sudden change in direction of movement.
Hugo has a special interest in treating sports-related injuries and is a keen sportsman himself. If you have trauma or post surgery rehab, Hugo can help help you recover by using the latest advice and techniques regarding how to help manage the injury and boost healing rates.
Shockwave Therapy
Shockwave Therapy is now available at the Practice. It is a highly effective , non invasive therapy reduces pain at the injured site, increases blood supply and kick starts the healing process. Research shows that is very effective at treating Rotator Cuff injuries, frozen Shoulder, knee pain, Golfer's and Tennis Elbow.
The treatment will be integrated into an overall rehab programme.
He will also ensure all the muscles and joints around the injury are working optimally. Through his work as an osteopath and his training with the Gray Institute of Functional Exercise, he will provide you with an effective rehab exercise programme to help you recover more quickly.
If you have a recurring injury, including problems like shoulder and knee pain, tennis or golfers elbow, hamstring strains, back pain, Sciatica, shin splints or ankle sprains, Hugo will analyse your gait, foot biomechanics, posture and spine to identify the root cause and to help you recover without injury recurrence.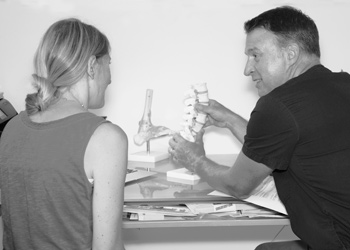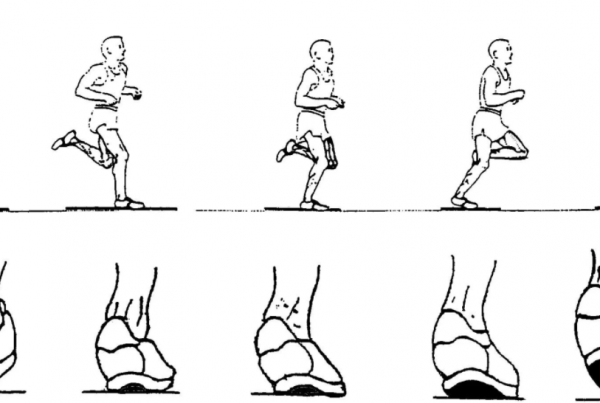 Heel Mobility and related back pain This article describes how a lack of heel mobility can have a related effect on back pain as well as other common foot and heel problems. Basic…
Offering patients medical acupuncture at our back pain clinic in Kingston
Medical acupuncture is a method of encouraging the body to promote natural healing and to regulate pain mechanisms for effective pain relief. Medical acupuncture is mainly used to treat musculoskeletal pain, including tight knotted muscles. It enables access to deeper tissues that may be difficult or too painful to massage.
Hugo is a trained Medical Acupuncturist and offers all patients this option, alongside their overall osteopathic treatment.
Visit our osteopath in Kingston to regain your personal best!
Find out today how Hugo can help you with muscle or joint pain or to recover from an injury. He can be contacted on 020 8226 3767 or book online.
Highly recommend Hugo Firth to fix those niggles, aches and pains. His rehab programme
has worked wonders for me. Riding pain free 🙂 April 2016

Cormac

Cyclist and Businessman
Hugo treated me when I was in excruciating pain following a nerve issue and at a time when other professionals told me to wait for the acute pain to subside before I could have treatment.... After just two appointments with Hugo, the pain was gone almost completely. A few more sessions later and I am now pain free!

Aurelie L

IT professional
Regain your Personal Best