If  you are currently suffering from muscle or joint pain in any part of your body then Kingston-based osteopath Hugo Firth is now offering Remote Consultations. He has been successfully treating patients with  in Kingston and Norbiton for a number of years. Registered with GOsC and a member or the Institute of Osteopathy, he is a musculoskeletal specialist, who combines osteopathy with 3D Functional movement, developed by the Gray Institute. He also uses sports massage, trigger point therapy and medical acupuncture to treat his patients.
What is a Remote Consultation?
With the Covid-19 virus and corresponding social distancing staying home for many of us is the only option. So Hugo has set up a remote Consultation option through tele/video software.
If you have not been treated by Hugo before then you will need to an Initial consultation. This will take approximately 30mins and it will involve a full case history where Hugo will ask detailed questions about your pain and injury. There will also be a visual assessment see ing what movements do and do not cause you pain. Finally, Hugo will talk through with you what has happened and the potential causes of your pain. He will prove you with specific advice to help reduce the pain and prescribe some specific Therapeutic exercises that will help address the cause of the pain and help with the healing process.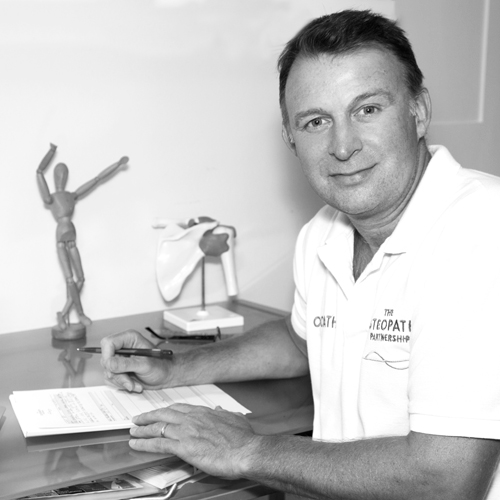 Using Video to help the healing process
Hugo also facilitates his patients' recoveries by videoing his patients practising their exercises, with their permission, so they complete them effectively and properly at home to accelerate their recovery time. As a Remote consultation patient you will have access to his  dedicated YouTube channel, for Therapeutic Exercise where a library of specific exercises can be found to help you recover and give you a useful reference point for the future.
For more information about osteopathic treatments, please call Hugo on 020 8226 3767.
Hugo recently treated my wife , Maureen for Sciatica on the right side
This is a terrible condition , and very painful
Hugo sorted this out very quickly
A big thank you to Hugo who is an excellent Osteopath
and we would definitely recommend him

Eric Svendsen

Retired
I had experienced Sciatica occasionally with my previous two pregnancies with my previous children and it normally went with rest. However this time it was just getting worse and worse. I couldn't stand, sit or walk for any length of time. Rest wasn't working!

I saw Hugo and he explained why it was happening. He gave me some specific exercises to do on the opposite side of the pain. He also gave me some acupuncture and massaged the muscles which was quite painful but it felt like it was helping. After 3 days I could feel the difference. One more treatment and doing the exercises religiously for approx 7 days and my Sciatica had all but gone. I can't recommend Hugo enough. If you are pregnant and experiencing sciatic pain don't suffer, go and see him.

Libby

Mum of two soon to be Three
Highly recommend Hugo Firth to fix those niggles, aches and pains. His rehab programme
has worked wonders for me. Riding pain free 🙂 April 2016

Cormac

Cyclist and Businessman
Hugo treated me when I was in excruciating pain following a nerve issue and at a time when other professionals told me to wait for the acute pain to subside before I could have treatment.... After just two appointments with Hugo, the pain was gone almost completely. A few more sessions later and I am now pain free!

Aurelie L

IT professional
Regain your Personal Best